JOHNSON, VAUGHN & HEISKELL

Attorneys at Law (Not a Partnership)
5601 Bridge Street, Suite 220
Fort Worth, Texas 76112
Office: 817-457-2999
Facsimile: 817-496-1102
E-mail: firm@johnson-vaughn-heiskell.com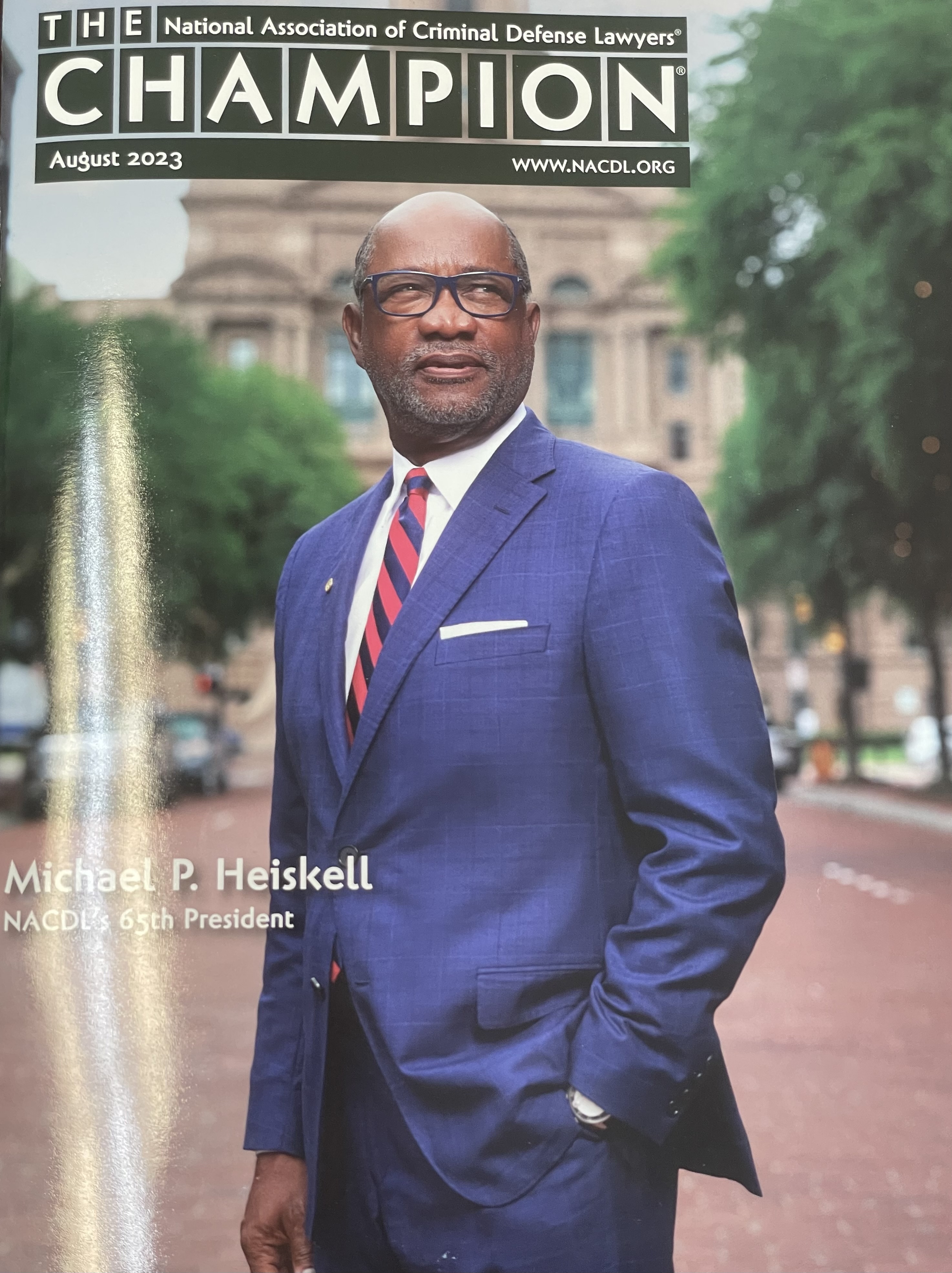 NACDL President
https://www.youtube.com/watch?v=Mh6XcQpmang

2022 Baylor Lawyer of the Year
https://www.baylor.edu/law/news.php?action=story&story=230241
ALERT:
2023 Update: Attorney Heiskell obtained "Not Guilty" verdict from a federal court jury on all 12 counts of Money Laundering, Structuring, Failure to File IRS Form 8300 and Smuggling Goods Outside the U.S. See, USA v. Zachary Stevens, et.al.; Cause No. 4:23-CR-184-O.
Attorney Heiskell also received a "Not Guilty" verdict from a state court jury in Tarrant County, TX on an Aggravated Sexual Assault of a Child. See, State of Texas v. Bruce Brown.

"PREEMINENT: Having paramount rank, superiority, dignity or importance; Distinction above others; OUTSTANDING." Webster's New Collegiate Dictionary
For the past twenty five (25) years, Johnson, Vaughn & Heiskell has attained the highest rating ("AV") for professional legal standards and ethics as certified and listed by the Bar Register of Preeminent Lawyers of the Martindale-Hubbell Bar Register. Experienced and trusted attorneys and judges determine this highly coveted rating.
Johnson, Vaughn & Heiskell, was created in 1984 when three (3) Assistant United States Attorneys joined forces to provide legal services of a varied nature to the public. It was initially comprised of William "Bill" Johnson, the former Civil Chief of the U.S. Attorney's office for the Northern District of Texas; Anthony Vaughn, an Assistant in the Civil Division; and Michael P. Heiskell, an Assistant in the Criminal Division. Both Johnson and Vaughn met their untimely deaths in 1987 and 1992, respectively. However, the firm name retains a stellar reputation due to the consistent hard work and high ethical standards adhered to by the lawyers associated with the firm.
Johnson, Vaughn & Heiskell is not a partnership, but an association of individual attorneys each offering a high level of expertise for a full range of legal services, in all types of cases.
The office currently consists of the President-Elect of the National Association of Criminal Defense Lawyer's Association and the 2015 Texas Criminal Defense Lawyer's Hall of Fame Inductee, Michael P. Heiskell, and L. Clifford Davis, a former State District Court Judge. Davis is also a recipient of the Texas Lawyer's Lifetime Achievement Award. Davis is "Of Counsel" to the firm.
Senior attorney, Michael P. Heiskell, is an aggressive trial attorney, who has been named a"Super Lawyer" by his peers in White Collar Criminal Defense, in Texas Monthly Magazine for each year since 2003. He is unwavering in his dedication to each client and their case and is fearless in the courtroom. He was recently honored as a recipient of the Blackstone Award, the highest honor extended by the Tarrant County Bar Association.
https://fwtx.com/news/michael-heiskell/
Legal services are available in the areas of White Collar Criminal Defense and Securities. In addition, counsel can defend individuals accused of Murder and Manslaughter, Sex Offenses, Juvenile Offenses, Drug Offenses, and DWI's. Representation in areas of: Civil Rights Law, and Administrative Law are also available. Our office is located in the Western Insurance Building on the corridor of 820 and I-30 on Bridge Street in Fort Worth. Free and convenient parking is available.
Our office has a reputation of lawyers who are hard working, ethical and dynamic in the courtroom.
We guarantee our commitment by providing aggressive, compassionate, and knowledgeable representation.